Ten special places by the sea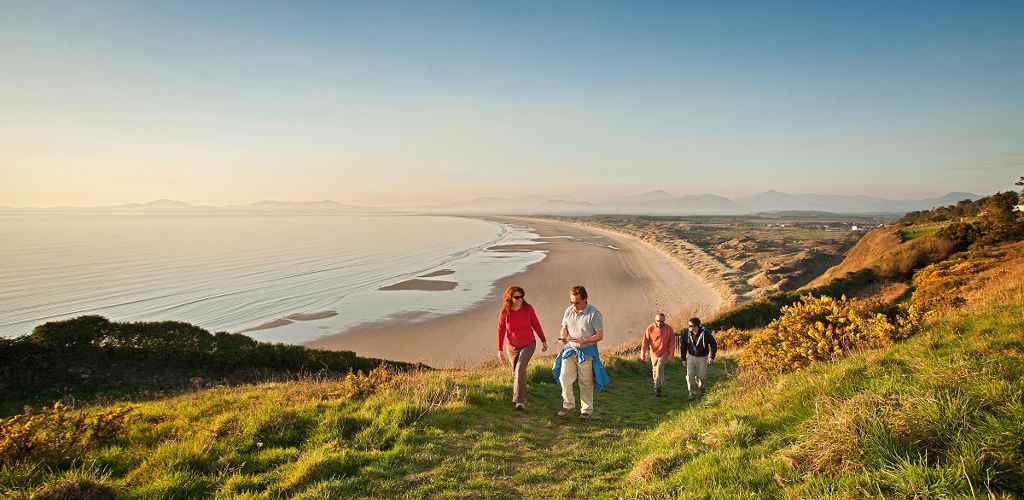 Discover the shores of Wales
We've picked ten special places that we look after around the coastline of Wales for you to explore.
They include a mixture of National Nature Reserves with sand dunes, forests near beaches and Wales' only Marine Conservation Zone.
Each place has walking trails with information panels to help you make the most of your visit and you can even enjoy a coastal discovery on two wheels on the cycling trails in Newborough Forest.
We've listed them below from the north coast of Wales all the way around to the south east coast.
Plan your trip
Everything you need to plan your visit to one of these special places by the sea is on our website.
1 Newborough National Nature Reserve and Forest, Anglesey, North Wales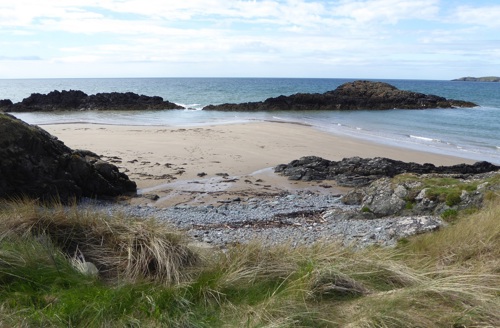 Dramatic coastal landscape shaped by wind and sea over the centuries
Newborough Warren and the island of Ynys Llanddwyn are part of Wales' first coastal National Nature Reserve.
The sand dunes, coastal marshes and rocky shores are home to an array of plants and animals that have adapted to the constantly changing environment.
Alongside the reserve is a large conifer forest, home to one of the UK's most important red squirrel conservation sites.
Enjoy a stroll along the beach or follow one of our waymarked walking or cycling trails. Look out for the colourful flowers that carpet the dunes in summer and migrating waders, ducks and geese in the estuaries during the autumn and winter.
Keep your eyes peeled on our red squirrel trail for these elusive woodland creatures. There's also a running trail, a trim trail, and a family-friendly animal puzzle trail.
Find out more about visiting Newborough National Nature Reserve and Forest
2 Morfa Dyffryn, near Barmouth, North Wales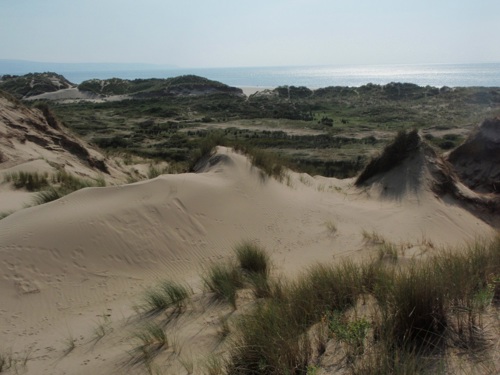 Sand dunes and seashore in a coastal landscape of unrivalled beauty and variety
Just up the road from the popular seaside town of Barmouth but far from the holiday hustle and bustle, Morfa Dyffryn is home to huge sand dunes.
The dunes may look bare and inhospitable, but they are home to some very specialised plants and animals that depend upon this strange environment for their survival. Look out for spectacular orchids in spring and summer and impressive fungi in autumn.
You can either follow a path through the dunes and onto the open beach or a short wooden boardwalk which stretches from the car park to the beach.
The boardwalk is flat and wide and suitable for wheelchairs and pushchairs and there is a viewpoint with picnic bench at the end.
Find out more about visiting Morfa Dyffryn National Nature Reserve
3 Morfa Harlech, near Harlech, North Wales
Vast dune system with spectacular views of Snowdonia
Here you can discover every type of dune habitat, and a range of important wildlife and plants that flourish in these conditions.
In spring and summer, discover the colourful flowering plants that live in the dune grasslands and slacks, and a number of special invertebrates.
In winter, look out for the wading birds that feed along the shoreline and wildfowl in the estuaries and saltmarsh.
There is a public footpath from Min y Don car park to the beach, from where you can explore the reserve and enjoy impressive views to Snowdonia and the Llŷn peninsula.
Find out more about visiting Morfa Harlech National Nature Reserve
4 Dyfi National Nature Reserve, near Aberystwyth, West Wales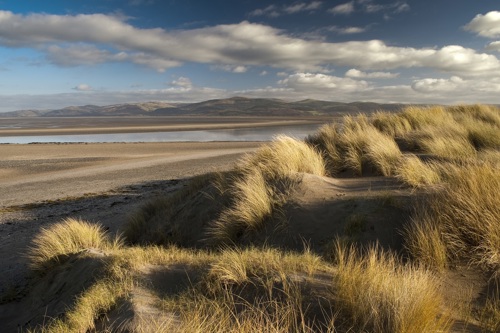 Stunning landscape with spectacular views over the estuary, sea and mountains
This huge reserve is made up of three very different areas on the Ceredigion coast.
Head for the sandy slopes and hollows of Ynyslas Dunes which provide a home for a myriad of small animals including rare spiders, mining bees and spectacular butterflies.
Enjoy the wide views from the sandy beach over the Dyfi estuary with its mudflats, sandbanks and saltmarsh that provide feeding areas for wetland birds.
For a full dune experience, try our circular Dune Walk, waymarked from the car park. Or simply follow your nose and take in the wide open spaces, stunning views and the sounds of wind, sea and birds all around you.
The Visitor Centre is open from Easter until the end of September.
Find out more about visiting Ynyslas Dunes and the other parts of Dyfi National Nature Reserve
5 Stackpole National Nature Reserve, near Pembroke, West Wales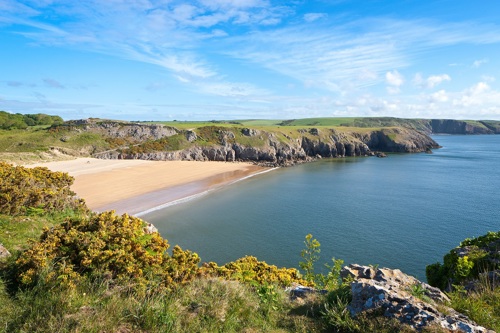 Dramatic cliffs, headlands and dunes on Pembrokeshire's south coast
From freshwater lakes to dunes, and limestone cliffs to beaches, few places pack in such a variety of habitats in a relatively small area.
Stackpole's wonderful for wildlife watching and, across the reserve, you'll find creatures great and small. Look out for guillemots and razorbills on the cliffs or wildfowl during the winter on the lakes.
Whether you want a short stroll or a refreshing ramble, there are miles of footpaths on the National Trust estate here. Choose from trails along the coast, past the lakes or through the woodland.
If you'd rather just relax on the beach, then you're in for a treat as two of Pembrokeshire's finest beaches, Broadhaven and Barafundle Bay, are within the reserve.
Find out more about visiting Stackpole National Nature Reserve
6 Skomer Marine Conservation Zone, near Milford Haven, West Wales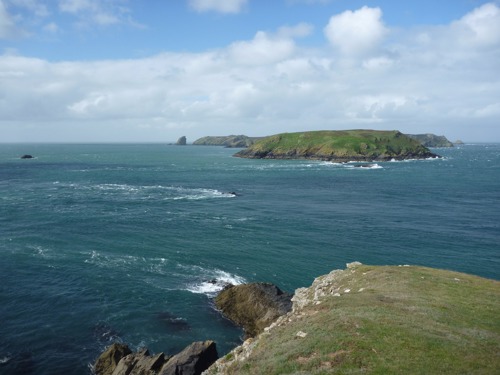 Unique stretch of water rich in marine plant and animal life
The waters around Skomer Island and the Marloes Peninsula, just off the coast of Pembrokeshire, are so rich in plant and animal life that they have been designated a Marine Conservation Zone - a unique status in Wales.
Once you've parked in the National Trust car park at Martins Haven, head for our marine exhibition centre on the way to the beach. Here you can learn about Skomer's sea creatures and find out which are the best places to watch for seals and porpoises.
You can explore the pebbly beach and rocky shore at Martin's Haven or go seal watching in autumn when the grey seals come ashore to give birth on the remote beaches here.
The island of Skomer, famous for its seabird colonies, is a National Nature Reserve managed by the Wildlife Trust of South and West Wales.
Find out more about visiting Skomer Marine Conservation Zone
7 Oxwich National Nature Reserve, near Swansea, South Wales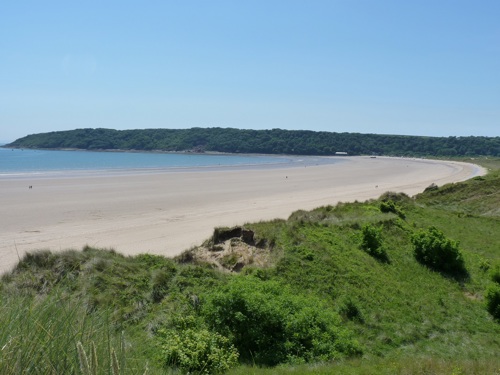 Wildlife oasis with an award-winning beach on the Gower coast
The long sandy beach at Oxwich is one of the best in Wales and has twice been recognised as the UK Beach of the Year.
You can enjoy a great family day out here - jumping in the surf, exploring the rock pools, and taking in the incredible views across the bay towards Devon.
Hard as it may be to drag yourself away from the beautiful beach, if you walk a little way inland you'll be rewarded with a wildlife oasis in the dunes, home to rare creatures and colourful wildflowers.
This varied reserve also includes saltmarsh, freshwater lakes, woodland and limestone cliffs, together with all the diverse wildlife that such a range of habitats supports.
The Penrice Estate provides visitor facilities at Oxwich beach.
Find out more about visiting Oxwich National Nature Reserve
8 Penybedd Wood, near Llanelli, South Wales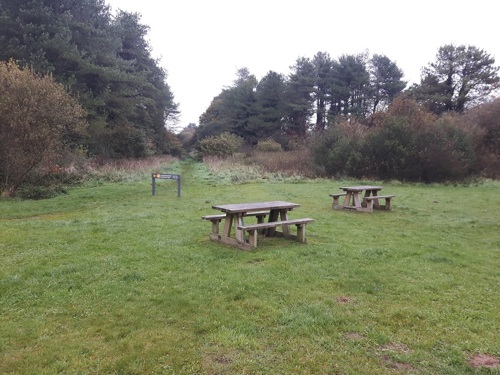 Peaceful woodland walk near Pembrey Country Park's famous beach
The eight mile long sandy beach at Cefn Sidan on the Carmarthenshire coast is the jewel in the crown of Pembrey Country Park.
Once you've had your fill of beach fun, head for the peaceful woodland and grassy picnic area at Penybedd, just outside the country park.
If you want to stretch your legs, follow the waymarkers along the sandy tracks through Corsican pine trees on our short circular walk.
Part of the woodland walk follows the old railway line which served the Royal Ordnance factory, now the site of the country park.
There are benches along the way and a decked viewing area beside a pond.
Find out more about visiting Penybedd Wood
9 Pembrey Forest, near Llanelli, South Wales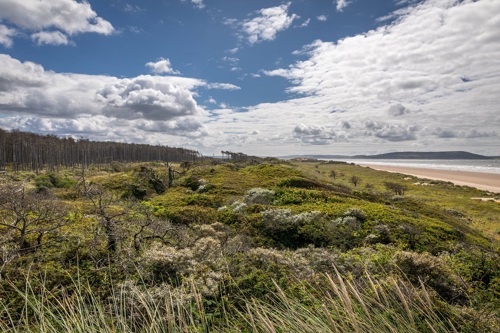 One of Britain's rare sand dune forests
Pembrey Forest is a huge pine forest which was created on sand dunes on the Carmarthenshire coast.
The Forestry Commission planted the trees here between 1929 and 1954 as part of a programme to replace woods cut down to supply timber for the two World Wars.
Our waymarked walking trail goes to the ruins of a World War 1 ammunition factory – the route follows old train tracks through the trees.
Pembrey Forest is home to a wide variety of plants, butterflies, migrant songbirds and birds of prey.
The forest is next to Pembrey Country Park (run by Carmarthenshire County Council) which has a visitor centre, café, toilets and a range of leisure activities.
Find out more about visiting Pembrey Forest
10 Newport Wetlands National Nature Reserve, near Newport, South Wales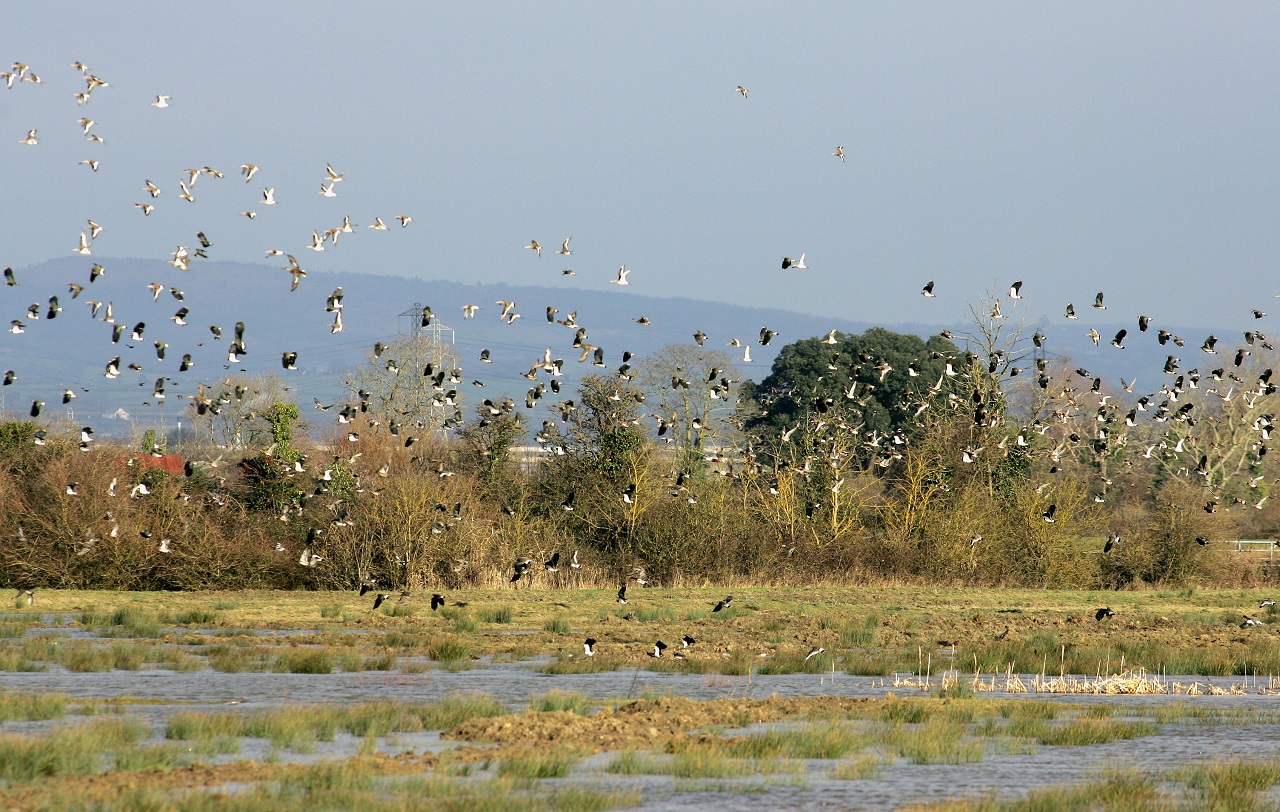 Great bird-watching from hides and viewing screens
This wildlife haven of reedbeds, saltmarsh and saline lagoons is one of the best places in Wales to see wild birds.
They flock here because the reserve provides all that they need – plentiful food, shelter, and clean water – and, whatever time of year you visit, you will be sure to spot (and hear) many different species.
You can enjoy the network of paths around the reedbeds and scan the pools from one of the viewing platforms.
If you want to explore further, then set off on the floating pontoon across the reedbeds to the East Usk Lighthouse from where there are views over the Severn Estuary towards Exmoor.
Many of the paths around the reedbeds are accessible for wheelchairs.
The visitor centre, café and shop are run by the RSPB.
Find out more about visiting Newport Wetlands National Nature Reserve
Looking for more?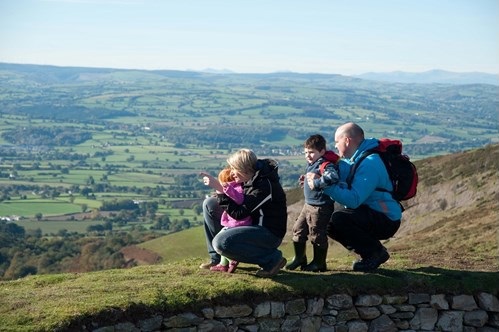 We are one of the biggest providers of outdoor recreation facilities in Wales.
Our hundreds of walking trails, world-class mountain biking trails, visitor centres and picnic areas are set in woodlands and National Nature Reserves in some of the most stunning parts of the country.
Find out more about days out in our woodlands and National Nature Reserves.
Find out more about things to do in our woodlands and National Nature Reserves.
Related document downloads