Ceunant Cynfal National Nature Reserve, near Porthmadog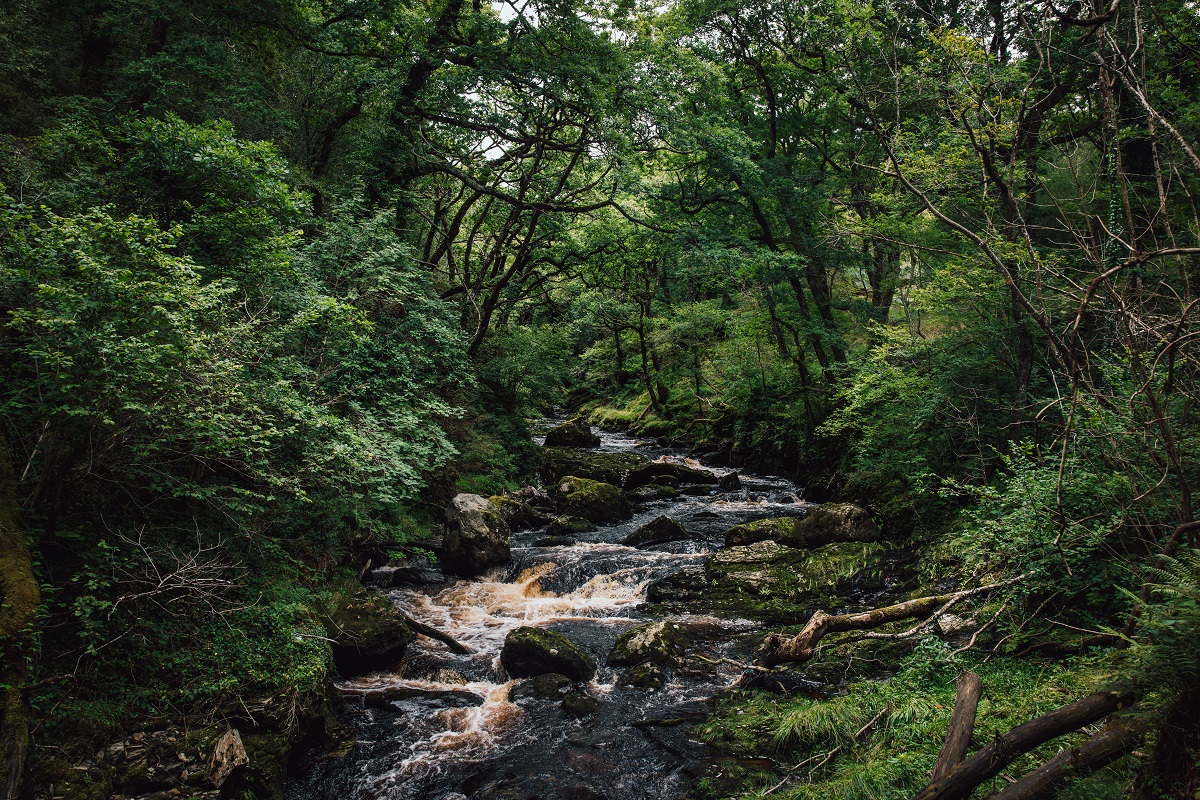 Welcome
Ceunant Cynfal is one of the finest gorges in Britain.
This narrow, deep gorge was created by the River Cynfal which descends from its source in central Eryri (Snowdonia) and becomes a raging torrent with steep cascades and waterfalls.
Rhaeadr Cynfal is one of the most dramatic of these waterfalls and you can view its tumbling waters from the restored Victorian viewing platform.
The oak woodland here is a remnant of a vast Celtic rainforest that once extended down the western side of Britain and Ireland.
Distinctive plant life thrives in the shady and humid conditions beneath the dense oak canopy and Ceunant Cynfal National Nature Reserve is a site of international importance.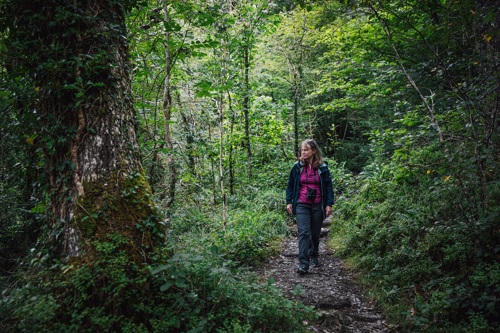 Walking trail
Look out for the information panel at the start of the trail.
Find out about walking trail grades.
Rhaeadr Cynfal Waterfall Walk
Grade: Strenuous
Distance: 1.4 miles/2.2 kilometres (there and back)
Time: 1 hour
Trail information: Follow the public footpath from Llan Ffestiniog village to the reserve entrance. The walking trail is not waymarked.
Watch the waterfall from the Victorian viewing platform and feel the spray from the waterfall.
Marvel at the deep ravine and its damp-loving plants and take in the atmosphere of this ancient oak woodland "rainforest".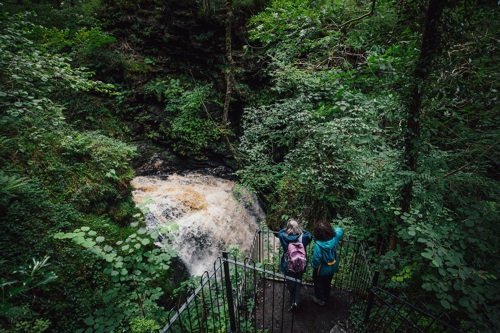 Visiting Ceunant Cynfal safely
rugged terrain with rocky outcrops, cliffs and crags, often concealed by long vegetation - wear footwear with a good grip and keep to paths.
the river can rapidly become a raging torrent in wet weather and there is a danger of being swept away - keep away.
no mobile phone reception in the gorge.
rock surfaces within the gorge are extremely slippery when wet.
be careful along unprotected path sections next to sheer drops into the gorge.
What to see at the National Nature Reserve
Geology
This is an ancient landscape – enormous flows of glacial meltwater at the end of the last Ice Age sculpted this gorge.
You can still see the tell-tale 'hanging valleys' (a valley cut across by a deeper valley or a cliff) and numerous geological features with names like 'pot holes', 'slots', 'arches' and a rock 'stack' – Huw Llwyd's Pulpit.
Mosses, liverworts and lichens
The gorge boasts an impressive 154 different mosses and liverworts.
Several are scarce: look out for the uncommon bun moss, which forms cushions on the woodland floor and tree trunks.
Lichens are also abundant, including the rare disc granular lichen, which grows on the bark of mossy, mature oak trees.
Bats and birdlife
The woodland provides an ideal feeding ground for bats.
During evenings in summer and early autumn you may spot them feeding along the edge of the woods and in open glades.
The rare lesser horseshoe bat has its British stronghold here in North Wales, and it depends upon catching dung flies in the treetops courtesy of grazing animals within the woodlands.
The woodland sustains a healthy bird population, and notable summer visitors include redstart, wood warbler and pied flycatcher – the typical 'upland oakwood' species.
Find out more about National Nature Reserves
Ceunant Cynfal is a National Nature Reserve.
National Nature Reserves are places with some of the very finest examples of wildlife habitats and geological features.
There are over 70 National Nature Reserves in Wales.
Find out more about National Nature Reserves.
Meirionnydd Oakwoods
Ceunant Cynfal is one of six large Meirionnydd Oakwoods which are protected as National Nature Reserves.
These oakwoods are as globally important and as vulnerable as some tropical rainforests and are a remnant of a vast Atlantic 'wildwood' that once extended down the western side of Britain and Ireland.
Two of the other Meirionnydd Oakwoods may be visited with care:
Dense vegetation and steep access mean that the other three Meirionnydd Oakwoods (Coed Camlyn, Coed Cymerau, and Coed y Rhygen) are not suitable for visitors.
Eryri (Snowdonia) National Park
Ceunant Cynfal is in Eryri (Snowdonia) National Park.
Eryri is the largest National Park in Wales and is home to picturesque towns and villages and the highest mountain in Wales.
It is looked after by the Eryri National Park Authority.
For more information about visiting Eryri (Snowdonia) go to the Eryri National Park Authority website.
Closures and diversions
Sometimes we need to close or divert trails for your safety whilst we undertake maintenance work or other operations.
We may have to close a site in extreme weather, such as high winds or snow and ice, due to the risk of injury to visitors or staff.
Please always follow any instructions on site and any temporary diversion signs.
How to get here 
Location
Ceunant Cynfal National Nature Reserve is 10 miles east of Porthmadog.
It is in the county of Gwynedd.
Ordnance Survey map
Ceunant Cynfal National Nature Reserve is on Ordnance Survey (OS) Explorer map OL18.
The OS grid reference for the start of the trail is SH 703 418.
Directions
Take the A487 from Porthmadog into Penrhyndeudraeth.
Continue out from the village along the A487 and after 4 miles turn left onto the A496 towards Blaenau Ffestiniog.
After 1½ miles, continue past the turning for Blaenau Ffestiniog onto the B4391 to Llan Ffestiniog village.
Continue through the village for around ⅓ mile where there is a small parking area on the left.
Public transport
The nearest mainline railway station is in Penrhyndeudraeth.
For details of public transport visit Traveline Cymru's website. 
Parking
There is no car park at the reserve.
Please park considerately in the village of Llan Festiniog and follow the public footpath from the village to the reserve entrance.
Contact details
There are no staff at this location.
Contact our customer team for general enquiries during office hours, Monday to Friday.
Related document downloads