Gwydir Forest Park - Llyn Geirionydd, near Llanrwst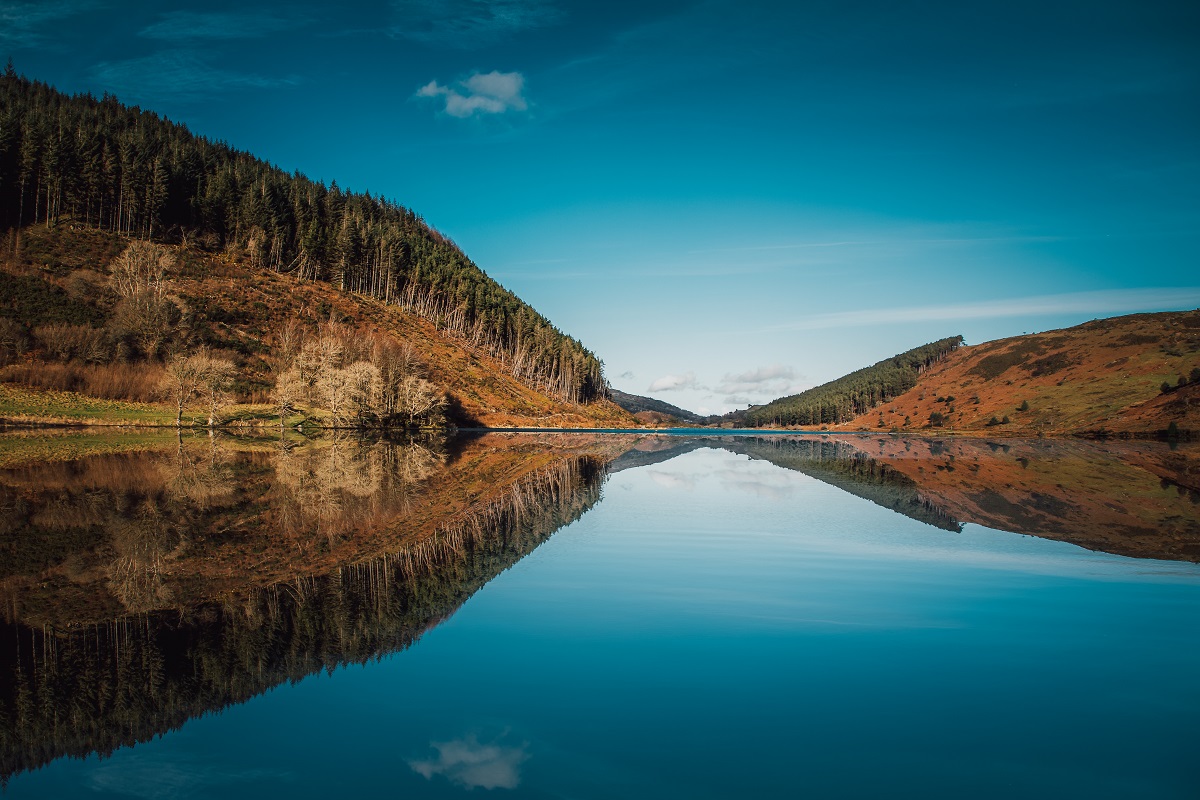 Welcome
Llyn Geirionydd is a popular lakeside picnic spot.
Llyn Geirionydd was reputedly the home of the 6th century poet Taliesin and a stone monument to him stands by the lake's north bank.
In the 1870s this was a derelict industrial landscape - in fact, the car park lies on a waste tip near an old lead mine entrance.
You can follow our circular waymarked walking trail from Llyn Geirionydd through the forest to the nearby lake of Llyn Crafnant - enjoy views of the lakes and the mountains along the way.
There are three waymarked walking trails from our car park at Llyn Crafnant, one of which is an accessible trail.
Walking trail
The walking trail is waymarked from start to finish.
Look out for the information panel at the start of the trail.
Find out about walking trail grades.
Geirionydd to Crafnant Trail
Grade: Moderate
Distance: 4.6 miles/7.4 kilometres
Climb: 300 metres
Time: 2-3 hours
Trail information: The trail is on a combination of forest roads, tarmac road, and a steep narrow footpath, less than 80 centimetres wide in some places, on an unmade and uneven surface, where you can expect mud, rocks and tree roots. There are two small fords to cross and a kissing gate just before you meet the council road. There are also two forest barriers you will need to walk around with a gap of around 70 cm at the side. There are picnic benches and toilets in both car parks, and a bench at the viewpoint above Crafnant.
This trail goes through the forest and takes in the two beautiful lakes of Geirionydd and Crafnant.
Follow the trail past the southern end of Llyn Geirionydd until the path narrows and casts you into the shelter and dappled light of tall larch trees.
Descend steeply through a shady silent spruce plantation and then pass ash and hawthorn hanging heavy with moss and lichen, a sign of the clean air here.
Continue on tarmac and forest road alongside Llyn Crafnant, climbing to a viewpoint over the lake, then descend back to Llyn Geirionydd.
Opening times
Please check the top of this page for any changes to these opening times.
The toilets are open from 9am to 7pm all year around.
They are locked overnight.
Gwydir Forest Park
Llyn Geirionydd is in Gwydir Forest Park.
Gwydir Forest Park lies in the heart of the Eryri (Snowdonia) National Park and encircles the village of Betws-y-coed.
Lead and zinc mining once dominated the area and the legacy of old engine-houses, waste tips and reservoirs are characteristic features of the forest landscape today.
Several of the most important mines have been partially restored and made safe for visitors.
Waymarked trails start from Betws-y-coed and several other Natural Resources Wales car parks in Gwydir Forest Park:
Eryri (Snowdonia) National Park
Gwydir Forest Park is set in Eryri (Snowdonia) National Park.
Eryri is the largest National Park in Wales and is home to picturesque towns and villages and the highest mountain in Wales.
It is looked after by the Eryri National Park Authority.
For more information about visiting Eryri go to the Eryri National Park Authority website.
National Forest for Wales
Gwydir Forest Park forms part of the National Forest for Wales.
The National Forest will:
create areas of new woodland
enhance existing woodlands
restore Wales' irreplaceable ancient woodlands
It will form a connected ecological network running throughout Wales, bringing social, economic and environmental benefits.
Parts of the network will eventually form a trail running the length and breadth of Wales, so anyone can access it wherever they live.
For more information go to the National Forest for Wales website.
Closures and diversions
Sometimes we need to close or divert trails for your safety whilst we undertake maintenance work or other operations.
We may have to close a site in extreme weather, such as high winds or snow and ice, due to the risk of injury to visitors or staff.
Please always follow any instructions on site and any temporary diversion signs.
How to get here
Location
Llyn Geirionydd is 4 miles west of Llanwrst.
It is in the county of Conwy.
Ordnance Survey (OS) map
Llyn Geirionydd is on OS Explorer OL17.
The OS grid reference is SH 763 604.
Directions
Take the B5106 from Llanrwst towards Betws-y-coed.
After turning left at the brown and white sign for Gwydir Castle, turn immediately right onto a minor road.
Pass several Natural Resources Wales car parks and turn right at the signpost for Llyn Geirionydd.
Follow this road to the car park.
Public transport
The nearest mainline railway station is in Llanrwst.
For details of public transport visit the Traveline Cymru website.
Parking 
Car parking is free of charge.
Overnight parking is not permitted.
Contact details
There are no staff at this location.
Contact our customer team for general enquiries during office hours, Monday to Friday.
Related document downloads