Morfa Dyffryn National Nature Reserve, near Barmouth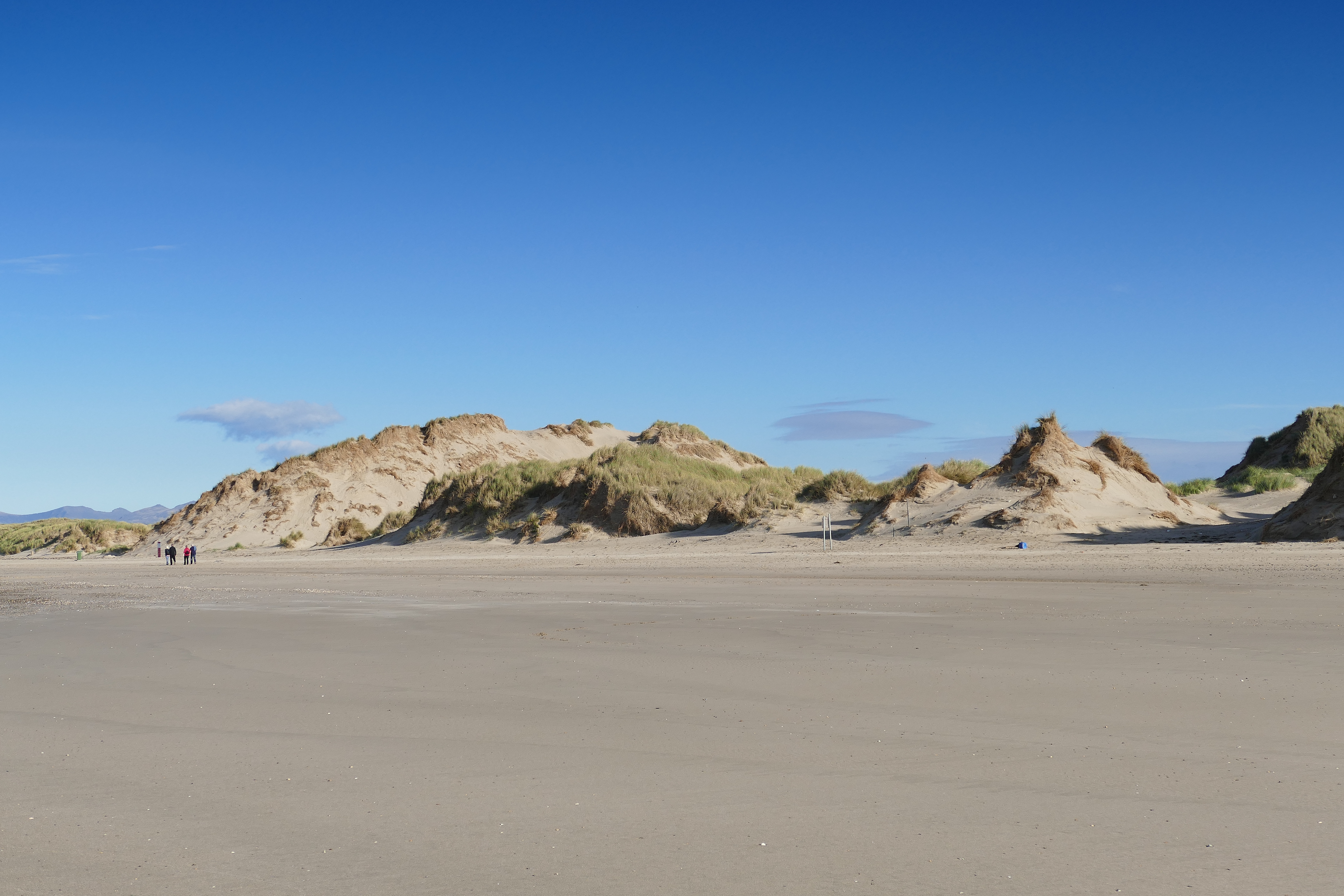 Welcome
Morfa Dyffryn National Nature Reserve is one of the most important dune systems in Wales because of its bare sand and wildlife habitats.
Dunes like these with bare sand areas are becoming increasingly rare.
The wind constantly moves and reshapes the dunes and they provide a home for rare and highly specialised plants and animals.
As well as the huge sand dunes, there are areas of seashore, saltmarsh and grassland and each of these habitats is home to an amazing variety of wildlife.
Together with Morfa Harlech to the south, the two reserves form an almost continuous area of sand dunes along the coastline.
National Nature Reserve
Morfa Dyffryn is a National Nature Reserve.
National Nature Reserves are places with some of the very finest examples of wildlife habitats and geological features.
There are over 70 National Nature Reserves in Wales.
Find out more about National Nature Reserves.
What to see at Morfa Dyffryn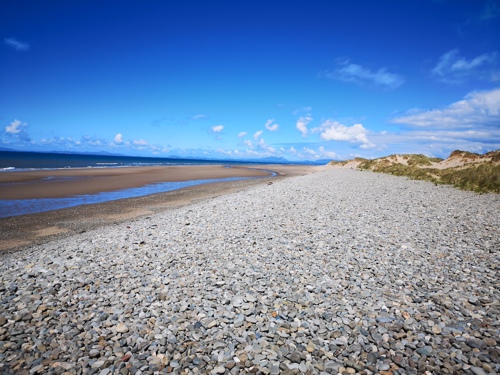 This impressive coastal landscape is one of our richest natural treasures and home to a wide range of plants and animals, all especially adapted to life at the edge of the sea.
The dunes may look bare and inhospitable to us, but they are home to some very specialised plants and animals that depend upon this strange environment for their survival.
The flat areas between dunes (slacks) become waterlogged in winter and often stay damp well into summer.
The slacks develop a colourful display of wildflowers which make Morfa Dyffryn a great place for butterflies and insects. Some invertebrate species that are nationally rare or scarce in the United Kingdom are found here.
The sandy grasslands offer perfect growing conditions for some impressive and unique sand dune fungi.
The sand dunes support significant populations of breeding birds and this is an important place for mammals, reptiles and amphibians too.
The brown hare breeds in the area, the creeks, swamp areas and ponds are home to grass snakes and great crested newts are found here.
Read on to find out what you could see here during the different seasons.
What to see in spring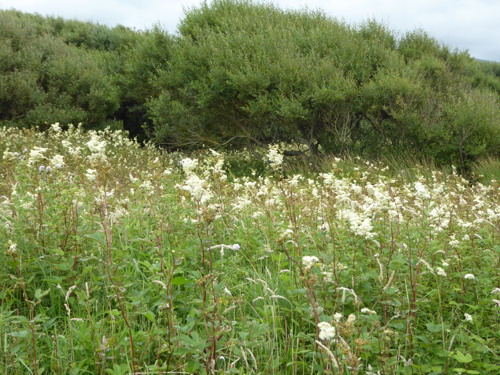 This is a good time to see many of the flowering plants that grow in the dune grasslands and slacks.
Several nationally rare and scarce wildflowers, lichens and mosses make their home here. The wild orchids include the lovely marsh helleborine which grows alongside the northern marsh-orchid as well as the early marsh-orchid.
There is a whole host of other brightly coloured wildflowers to enjoy from early spring onwards. Thrift and common centaury put in an early appearance and they are soon followed by other coastal species including common restharrow, wild pansies, bird's-foot trefoil and many others.
You might also come across sea mouse-ear, thyme-leaved sandwort, portland spurge and dune fescue.
Lapwing nest here and ringed plovers breed on areas of shingle.
What to see in summer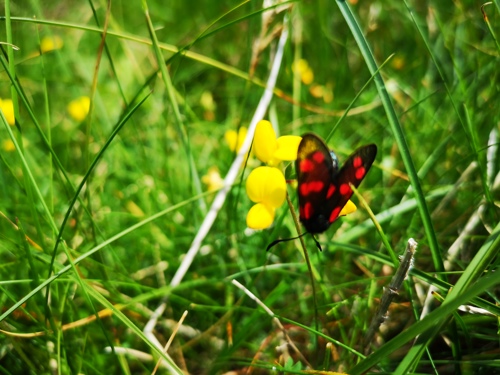 In the warmer months, a wide variety of flowering plants can be seen in the dune grasslands and slacks. These include dune pansy, speedwells, thyme, maiden pink and orchids.
There are also colonies of the rather scarce green-flowered helleborine and round leaved wintergreen - July or August is the best time to see this species.
Summer is also a busy time for many invertebrates including mining bees and beetles.
Look out for the small copper, peacock, and gatekeeper butterflies and day-flying moths such as the cinnabar and forester.
What to see in autumn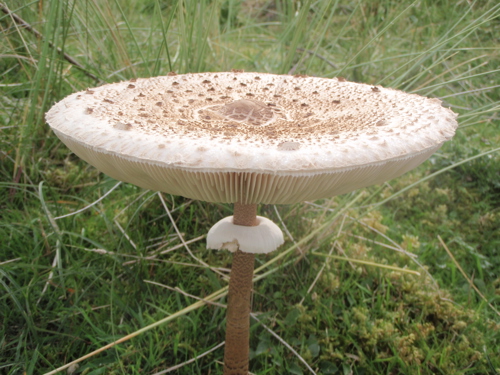 The drier dune grasslands are well known as good habitat for fungi and the dunes here offer impressive fungi 'vistas'.
Dwarf earthstar occurs only in mature dune grasslands such as those found at Morfa Dyffryn.
You may also see multi-coloured waxcaps, coral and club fungi, earthtongues and parasols.
What to see in winter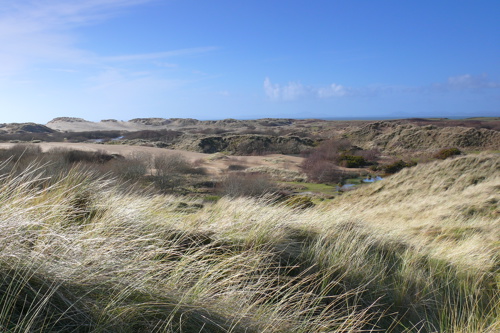 The sand flats and salt marsh in the estuary are important feeding grounds for winter wildfowl.
The beach is used by wading birds but, if you look offshore, you may spot wintering grebes and divers.
Other bird species that put in an appearance at the reserve in winter include choughs and hen harriers.
Visiting Morfa Dyffryn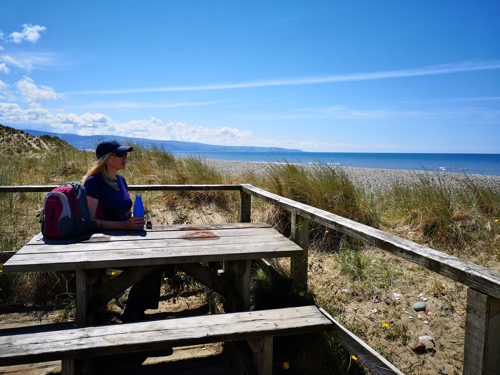 There are two walking routes from the Benar car park through the reserve to the beach.
The wooden boardwalk from the car park goes straight to the beach.
The path from the car park goes through the dune slacks and onto the open beach.
On a clear day enjoy views of the Llŷn Peninsula and a glimpse of Bardsey Island from this stretch of the Cardigan coast.
There is a viewpoint with picnic bench at the beach end of the boardwalk and there are picnic tables in the car park.
There are toilets in the car park (owned by Eryri (Snowdonia) National Park and open seasonally).
Naturist beach
Please note that part of the reserve is a designated naturist beach and is signed accordingly.
Seasonal dog restrictions
Please keep dogs on leads during the bird breeding season March – July; ringed plovers nest right on the beach and other birds nest in the dunes and saltmarsh.
Eryri (Snowdonia) National Park
Morfa Dyffryn in Eryri (Snowdonia) National Park.
Eryri is the largest National Park in Wales and is home to picturesque towns and villages and the highest mountain in Wales.
It is looked after by the Eryri National Park Authority.
For more information about visiting Eryri go to the Eryri National Park Authority website.
Accessibility information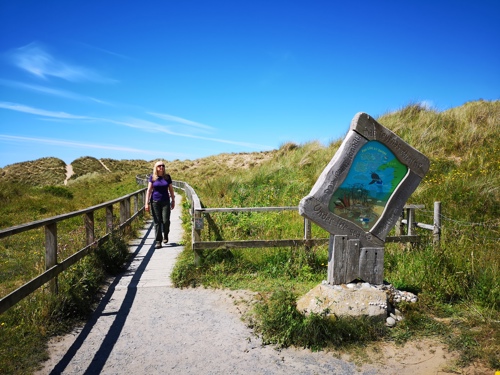 The boardwalk is flat and wide and suitable for wheelchairs.
There is an accessible toilet in the car park.
Both facilities are owned by Eryri (Snowdonia) National Park.
Opening times
The toilets are open from 1 April - 31 October.
Closures and diversions
Please note:
Sometimes we need to close or divert trails for your safety whilst we undertake maintenance work
Occasionally we may have to close a site in extreme weather, such as high winds or snow and ice due to the risk of injury to visitors or staff
Please always follow any instructions onsite and make sure you follow any temporary diversion signs in place
How to get here
Location
Morfa Dyffryn National Nature Reserve is 5 miles north of Barmouth (between the villages of Llanaber and Dyffryn Ardudwy).
It is in the county of Gwynedd.
Directions
Take the A496 from Barmouth to Harlech.
After the village of Tal y Bont, turn left at the brown sign to the Dyffryn Seaside Estate and Benar Beach.
The Benar car park is at the end of this single track lane (Ffordd Benar) after the Dyffryn Seaside Estate.
Ordnance Survey map
Morfa Dyffryn National Nature Reserve is on Ordnance Survey (OS) map OL 18.
The OS grid reference is SH 572 227.
Public transport
The nearest train station is in Dyffryn Ardudwy, one mile away.
There is a bus service from the south (Barmouth) and North (Harlech) along the A496.
For details of public transport visit the Traveline Cymru website.
Parking
The Benar car park is operated by Snowdonia National Park and there is a parking charge.
There is a bicycle rack in the car park. 
Contact details
There are no staff at this location.
Contact our customer team for general enquiries during office hours, Monday to Friday.
Related document downloads